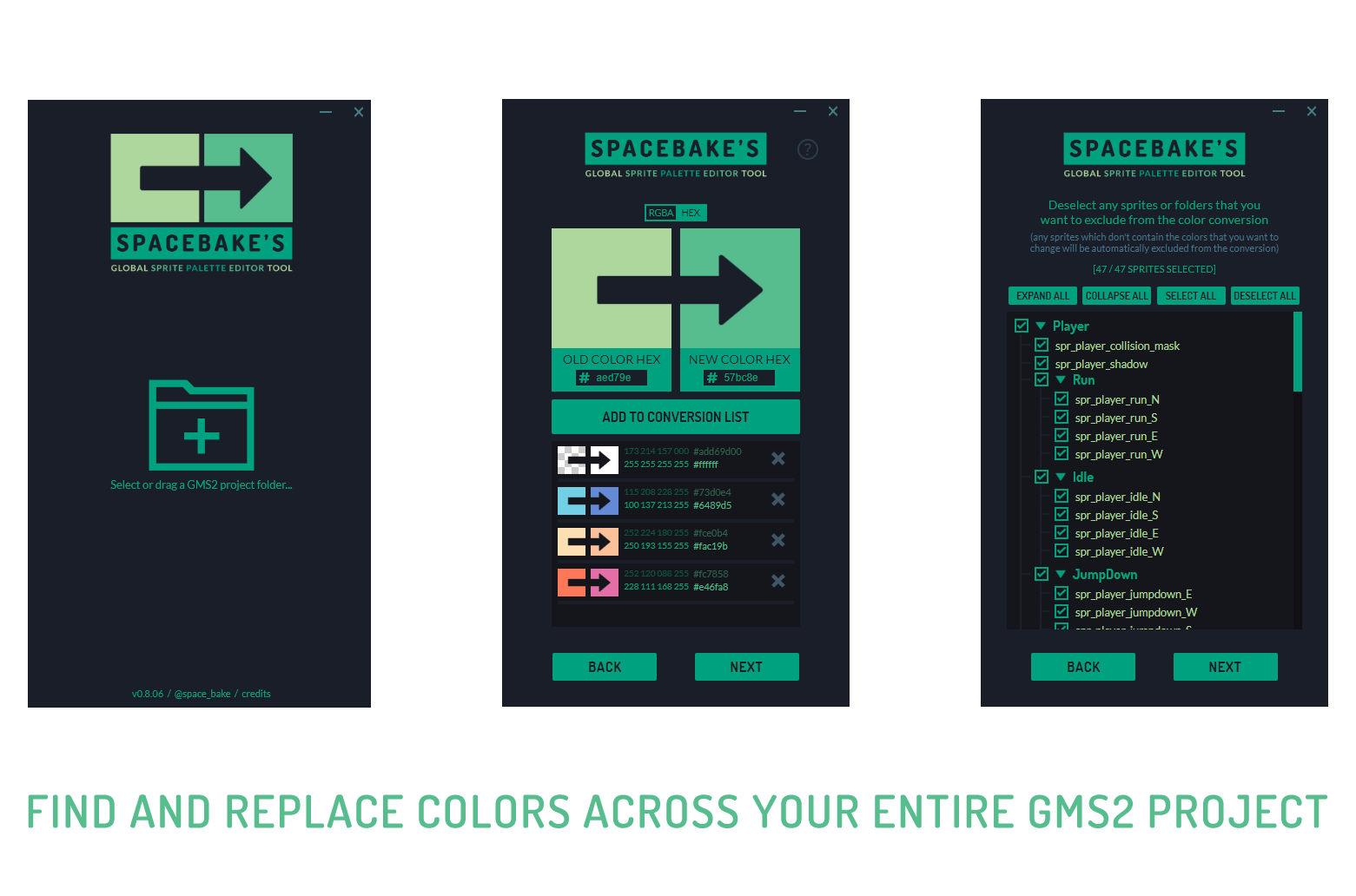 G-SPET
A downloadable tool for Windows
WHAT IS G-SPET?
G-SPET is a tool for finding and replacing colors across your GameMaker Studio 2 project.

With G-SPET, making changes to your game's palette is now incredibly quick and easy.

You simply select a color you want to replace and a new color to replace it with.
G-SPET will scan through every sprite in your project, replacing any pixels of the old color with a new color of your choice. You can also choose to exclude any sprites or sprite folders that you don't want to be changed.



WHAT PROBLEM DOES G-SPET SOLVE?
When developing games, I would often make small changes to my game's palette. Unfortunately, changing even a single color can by extremely time consuming. I had to go through each individual frame and layer of every sprite in my project, checking for the old color and replacing it.

Sometimes when the new color was similar to the old color, I couldn't even remember which sprites I'd already changed and which ones I hadn't. When working on large projects I had to consider if my color tweak was even worth the time it would take.
G-SPET alleviates this problem entirely. It automates the entire process and changes all your project's sprites in seconds rather than hours. You no longer need to worry if a color change is worth your time. You can even try out a new color and then change it back if you don't like it.

This tool allows you to experiment more, and spend more time developing your game instead of wasting hours on repetitive busywork.
TIPS
You can toggle between RGBA and HEX input types during the color selection.
HEX transparency is also supported in the format of #RRGGBBAA
In RGBA mode the alpha value should be a number from 0-255. Some image editors will use a value from 0-1 for the alpha, in that case just multiply the number by 255 to get the correct value.
All colors with an alpha value of 0 will be treated as the same color regardless of their RGB values.

You can convert up to 16 colors at a time.
LIMITATIONS
G-SPET's purpose is for the batch recoloring of sprites, it changes the colors in the PNG files that make up your sprites. It is not a tool for changing colors in-game or during gameplay. If you need to change sprite colors during gameplay then I recommend Pixelated Pope's Retro Palette Swapper
G-SPET can only be used with GMS2 projects (GMS1 is not supported).
Currently only compatible with Windows 10. You can try older versions of Windows, it may work fine but it has only been tested on Windows 10.

G-SPET is only suitable for converting pixel-art based graphics. Any image with more than 256 colors will be rejected by the converter.
it is not advisable to modify your GameMaker project while it is also open in G-SPET. It shouldn't cause any major issues, but i wouldn't advise it
CONTACT
If you have any questions or want to report a bug you can email me or inbox me on twitter.

Purchase
In order to download this tool you must purchase it at or above the minimum price of $2.99 USD. You will get access to the following files:
G-SPET_win32_(v1.0.05).zip
81 MB